RESERVE YOUR VILLA NOW
Option to rent: 1 - The whole villa (4 floors) which sleeps 10/12 people or 860 squ mteres / 2. -Additional Secret Garden space for special events; weddings etc
Click to book your holiday. Show calendar and prices
AVAILABILITY & OFFERS
Available
Special offer
Already booked
5 Bedrooms: | Sleeps: 10 /12. Bathrooms: 7
Weddings & special occasions: Further additional 5 bedrooms in Annex available.
Seasons:
High Season: 28th June to 29th August also 24th Dec to 4th January
Rates for 7nights:
Full house with 5 bedrooms Price Available Upon Request
2 floors & pool With 3 bedrooms Price Available Upon Request
Medium Season: 17th May to 25th June & Medium: 30th August to 26th Sept
Rates for 7nights:
Full house with 5 bedrooms Price Available Upon Request
2 floors & pool With 3 bedrooms Price Available Upon Request
Low Season: 27th Sept to 16th May
Rates for 7nights:
Full house with 5 bedrooms Price Available Upon Request
Rental from Saturday to Saturday check-in between 4pm-7pm
Checkout by 10am
-Shorter stays on individual application please.
-4 night minimum stay contact directly for availability
-2 hours maid service included daily
VILLA DETAILS
A short list of the main features of the holiday home
home

860 SQU MTERES

car

PARKING

wifi

FREE WIFI

tree

SECRET GARDEN
High in the Umbrian hills in central Italy; designers Robbie Spina and Joe Zito have painstakingly restored a medieval building that in its time has served as a prison, a convent, a school and a hotel. Umbria is wilder than neighbouring Tuscany. The building itself had been derelict for over 45 years and part of it was in a state of collapse.
It comprises of three medieval towers, which had originally been individual palaces that date from the 1500s. After acquiring all the relevant permissions; a painstaking and slow process since it is listed as a Grade A listed monument (The same grade as the Coliseum in Rome), the restoration process itself took less than a year to complete; The result is beautiful, sensitively restored home that clings to the edge of the hill. With its original 500-year-old Terracotta floor and 13ft-high beamed ceilings. A dramatic chandelier dominates the central stairwell, with its original 500-year-old iron balustrade.
The 21ft-long structure was handmade in Spina's London studio using 72,000 pieces of crystal & chain. It took two months to construct and was the last thing to go into the villa.
The panoramically positioned swimming pool (700metres above sea level) is lined with green Italian marble and the surrounding paved area is in Travertine.
From the garden an exterior staircase climbs to the main entrance. What were once a series of dungeons are now a rustic kitchen and dining area. There are three en suite bedrooms and a library on the floor above; climb another flight of stairs and there is a second larger kitchen, living and dining areas, and a study as well as a spacious 60 square meter terrace with stunning views stretching over 100 kilometres in the distance.
There is also a second entrance on this floor that leads out to a higher part of the village.
One further floor has space for another three en suite bedrooms. The perfect base for discovering Umbria with all its magical views of hidden dells and magnificent peaks.
Located between the world-renowned cultural cities of Florence, Assisi and Perugia, with Siena and cortona just an hour away and utterly fabulous breath taking views.
Read more about 'La Taverna al Monte' in a feature in the Telegraph by Becky Sunshine:
AMENITIES
The villa has 4 floors in total connected by a large, central staircase which is an architectural jewel in itself with its original stone floors and iron staircase, Spina centrepiece light sculpture cascading through the stairwell some 6 meters high
Access
As the villa is built on a hill, there are two accesses: one through the village with car parking available at approx. 50 meters; and a street access via a stone cobbled courtyard which leads to the garden and from there to the 2nd lower floor. Located between the world-renowned centres of Florence, Assisi & Perugia, it is on the cusp between Tuscany and Umbria so that culture and art surround you.
Soft evening magic by the Terrace
Ground Floor/ Village Level
• Dining room • Large fully equipped kitchen with living area • TV room • Study • Cloakroom • Bathroom with shower • Access to the terrace Top Floor • Panoramic Suite: 30 sqm bedroom with en-suite bathroom (shower) and dressing room • 1 twin bedroom, en-suite bathroom
1st Lower Floor/ Library Level • Library-drawing room with large stone fireplace and arched ceiling • Star Suite: double bedroom, en-suite bathroom (shower) and separate dressing room • Twin bedroom with adjacent bathroom (tub & shower) • Double bedroom with four poster bed, en-suite bathroom (shower) • balcony overlooking the pool
• Lobby • Kitchen with dining area • Pantry and cloakroom • Small terrace overlooking the pool Steps lead down to the garden and pool area Outside Space
Two distinct outside spaces: The Garden & Pool Area with a small pool (6 x 3 m), lounges and sun umbrellas. The terrace (60 sqm) is accessed from the villa via two sets of double doors and is south-facing. It is ideal for breakfast and includes contemporary loungers, parasols, seating and dining areas along with shade and privacy with subtle bamboo planting. It boasts magnificent views across the valley and Umbrian mountains."
Welcome food basket on arrival
Pool 6mx3m
Wi-Fi
TV/DVD
IPod docking station
Safe

Show more amenities

Barbecue
Massage/Reflexology on request
Cooking classes on request
Personal trainer on request
Walking guide on request
Local village shop
Restaurant in the village
Fashion outlets
Central Heating (for Winter months)
Hair Driers
Washing Machine/Dryer
Iron & Ironing Board
Library (& DVD collection)
Mosquito Nets/Fly screens
Outdoor dining area
Cook on request
Daily maid service 2hrs included ( additional on request)
Press here to see Gallery with more photos
Weddings & Special Celebrations
'For a discerning couple, La Taverna 's ambience is both sophisticated & unique like no other, a totally different wedding experience based upon a new concept for celebrating your special day. Setting itself apart from other wedding venues, La Taverna and its surrounding hamlet and villagers welcomes the bride and groom in unison and places at their disposal the possibility of using any of the wonderful buildings there; whether the medieval castle is preferred, or a private palace, with secret spaces and hidden gardens as well as its own exquisite church. All are especially opened and made uniquely available. All within walking distance, no cars or ferrying of guests to and fro. No other wedding venues offer the same scope as LTAM. We offer you the entire medieval jewel that is Monte Santa Maria Tiberina."
See 'Special Events' section above for more info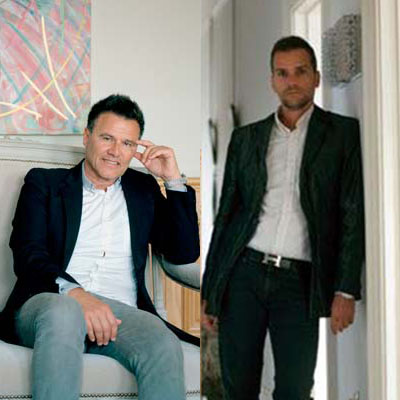 Reviews
This is what our guests think
Click here to read further reviews
"It was an experience of a lifetime at La Taverna Al Monte, the villa has breathtaking views over the country side. This is a true gem in Umbria, the building has been restored and decorated to a very high standard to provide great comfort and a peaceful atmosphere. Its hosts are charming and very welcoming. We are looking forward to our next stay to discover more of the Umbria region, which we believe it is more interesting than Tuscany. The house is perfectly located with a great terrace and garden, you'll never want to leave the villa."
Hassan and Michel – Les Trois Garcons
-
'From the charm of the village, to the incredible warmth of the hosts and relaxed, stylish elegance of the villa, I highly recommend this place. Owners Robbie and Joe have restored the building with such exquisite sensitivity, added their own beautiful design to create an incredible home and one that's hard to leave. And that's the point - it feels like a home away from home. If only my home looked like that.
Our bedroom was incredibly comfortable and quiet, the communal areas are spacious and light allowing guests to either be together or remain private as they wish. And breakfast on the big, open terrace is one of life's great delights - with the most amazing panoramic views. I would happily go back.'
Becky Sunshine, Interiors & Design Journalist & Writer
-
Other things to do nearby:
Beauty Spa /Tennis / Golf/Horse-riding/ Shopping at Fashion Outlets/Culture/Guided walks/ Painting & Art classes/ Star-gazing
LOCATIONS NEARBY TO VISIT
Monterchi 12 km/7 miles
Citta di Castello 15 km/9 miles
Montone 30 Km/18 miles
Arezzo 40 km/25 miles.
Perugia 45 km/28 miles
Cortona 50 km/31 miles
Assissi 50 km/30 miles
Gubbio 53 km/ 33 miles
Fashion Outlets 55 km/35 miles
Florence 70 km/43 miles
Urbino 80 km/ 50 miles
Sienna 111 km/ 69 miles
Airports and trains
Perugia airport 45km/28miles
Florence airport 130km/81 miles.
Pisa airport 194km/120miles
Rome Fiumicino 254km/158miles
Trains:
Citta di Castello 15km/9miles.
Also
Mainlines go to Arezzo
DETAILS
Monte Santa Maria Tiberina
Perugia Italy
06100
Email:
info@latavernaalmonte.com
Joe
UK mobile 07949 073251
Robbie UK mobile
07949 200031
Studio UK
+44 (0) 207 3285274
( Joe & Robbie speak both English & Italian)
www.spinadesign.com